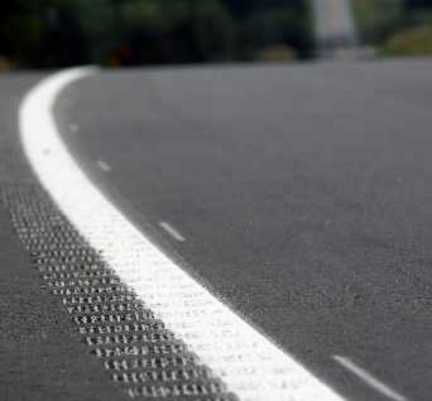 Written: 2012
Price: $50
Commissioned By: Montoya Music
Duration: ca. 8:00
Grade Level: 5
Rumble Strips is the sequel to my 2003 composition, The Highway.  This piece for 7 performers and audio accompaniment is written in three parts and is inspired by the Noise Pop, Trance, and Dub Step genres, respectively.
Also known as "sleeper lines," Rumble Strips are a safety feature on roads that warn drivers of potential danger by causing a vibration and audible rumbling through the wheels into the body of the car.  On freeways, motorways, and highways, these are usually found on the shoulder and centerline to alert drivers when they drift from their lane.
Like The Highway, Rumble Strips is written with constant grooves throughout the piece and in styles of music that I love listening to in my car on trips.  While not inspired directly by any specific song, there are subtle, and not so subtle, homages, nods and hints of Britney Spears, Enigma, Falco, Flux Pavilion, Nero, Skrillex, Sleigh Bells, and other songs and artists one might hear on the radio, in a club, or a BBC Radio 1 Essential Mix.
Rumble Strips is dedicated to Dr. Robert Schietroma for taking a chance and publishing my percussion music.  I am truly indebted to him and my career wouldn't be where it is today without him.