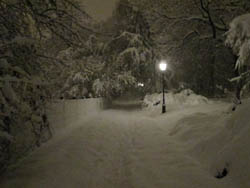 Written: 2012
Price: full set $135; score $25
Commissioned By: Montoya Music
Duration: ca. 6:30
Grade Level: 5
Living in Texas my whole life, I had never experienced a true winter. In fact, I don't think I actually had experienced all four seasons! For in Texas, it always seemed to be summer, with short interruptions of cooler weather. There had been a few occasions where it had snowed, but it rarely stuck to the ground, and if it did, it was gone in a matter of hours.
In 2008 I moved to Michigan to pursue my Master's Degree. On one particular day, as the snow fell, I remember contacting friends and family and exclaiming, "The snow is so big!" I never thought that snow came in different sizes, or fell at different speeds. As I began to write this adagio, I wanted to capture the feelings and excitement of the first snowfall.
I reflected on the nighttime when all was quiet and still. Suddenly the first snowflake appears. Slowly more snowflakes begin to fall as the speed increases. The bells toll at midnight as the snow gradually accumulates on the ground, turning the color from dark hues, to a soft white. Then, as if it cannot be contained any longer, snow fills the heavens as the wind carries it through the sky and to the ground, covering the earth with its white blanket.
As the sun begins to rise above the horizon, the snowfall begins to dissipate. The intensity dies down, as small flakes fall slowly and blow listlessly in the wind. The sunlight grows brighter, and presents the snow; smooth and untouched.
That is, until the world awakens…
Midnight Snowfall was written for symphonic winds in 2008 and was transcribed for orchestra in 2012 and is dedicated to Jenn.