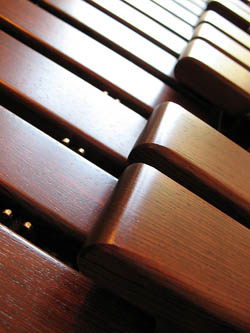 Written: 2009
Price: Contact for Info
Commissioned By: Montoya Music
Duration: ca. 25:00
Grade Level: 5
Solo Mar, 2+pic.2.2+bcl.2.–4.3.2+btbn.1.–timp; 3 perc; hp.pno; str
Also Available for Symphonic Winds and for Piano
for my dear friend, Jeffery N. Lund
When deciding on what to compose for my Master's Thesis Composition, after much discussion, contemplation, and pestering, I ultimately decided on a work that would incorporate two things that "scared" me the most compositionally: a marimba solo and the orchestra.
Being a percussionist, one would think that I would thrive when writing a solo for marimba.  But before I began I was always concerned that I would only write what I could play.  And to be honest, I was not a great marimba player.  So to write a concerto for an instrument I am supposed to have an intimate knowledge of did indeed frighten me.  The orchestra scared me for two reasons.  First, outside of undergraduate composition lessons that focused on exercises for all instruments and groups, I have never composed for orchestra.  Add to the fact that the odds of even securing ONE performance with an orchestra are pretty slim, and you have a great case for me not to write for orchestra.
After I began writing the piece, however, I fell in love with the instrumentation; the colors the strings could provide, how versatile the marimba was, and how lush and pretty the whole orchestra could sound.  I realized quickly how great the orchestra was and was glad I took the chance.
The concerto consists of three movements:
Effervescent – a lively, exhilarating trip through a musical, marimba obstacle course; where the music bubbles and hisses and the soloist announces to the audience, "I am here!"
Gotas (de Lluvia) – drops of rain; starting softly, slowly, and sparse, sometimes falling quickly and full, but to me always beautiful and calming.
Ostentatious – a tour de force, intended to attract notice, and to impress others.
My colleague, fellow percussionist and dear friend Jeff Lund, for whom the piece is for and dedicated to, assisted me through the compositional process and acted as a mentor through my orchestral revelation.  His friendship and invaluable guidance has influenced me more than I could ever tell him.
Fantasia for Marimba was written for orchestra and transcribed for wind ensemble and for piano in 2009 and is written for and dedicated to Jeffery N. Lund.