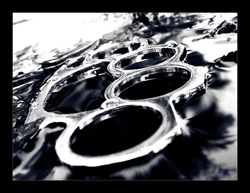 Written: 2013
Price: $45
Commissioned By: Mark Calima & the Cedar Ridge High School Low Brass Choir (Round Rock, TX) In Honor of their 2013 performance at The Midwest Band & Orchestra Clinic in Chicago, Illinois.
Duration: ca. 7:30
Grade Level: 6
A set of brass knuckles is a devastating weapon. Small and compact, it's capable of unloading a tremendous amount of damage on its target with little warning. Daniel Montoya, Jr.'s Brass Knuckles is similarly conceived—a pugilistic gutshot wrapped up in a tight package. The title itself is a bit playful as a reflection on the nature of the ensemble; the words reflecting the orchestration itself—a mix of brass and percussion instruments—and the punchy capabilities of such a lean and powerful group.
The piece is cast in a tripartite form, with rambunctious exterior sections outlining a disoriented, slow middle. The action involved is not unlike any number of famous scenes in films that depict a sensational prize fight. The opening fisticuffs are aggressive and brash, like two wild fighters in their prime swinging for an instantaneous knockout. The rhythm, a curious alternation of 5/8 and 7/8 meters, seems to shout out the title of the work with vicious aplomb. In the aftermath of the initial blows, the texture thins and a sequence of duets emerges: a duo marimba ostinato that accompanies two agile euphoniums, followed by another for horn and trombone. One might imagine the fighters circling, simultaneously dodging and defending themselves while searching for the opening that would lend them the advantage. From here it builds back to another melee over the constant rhythmic battering of the percussion. The music alternates in this manner several times, with fierce exchanges countered by limber sparring, until finally the action stops with a tremendous punch from the tutti ensemble.
What follows is a chorale of sorts for the brass, building from the lowest tessitura of the group up. The initial presentation is skewed and discombobulated, with strange chord progressions and tense unresolved dissonances. In this moment, the fighter protagonist seems down for the count, unable to pull themselves back up. The entry of the trumpets, however, signals a moment of heroic resilience. A twinkling of mallet percussion then urges the motion forward, with ascending melodic lines demonstrating the return to the action. From there, the ride to the end is a furious one, with the brilliant technique of the euphoniums, in particular, nearly incessant for the remainder of the work. The flurry of notes takes on the valiant character of the rising combatant, stepping courageously back into the fray. At last, the material from the very opening of the work returns with an even more aggressive spirit as a precursor to the ending: a mad rush of blows, finally resolved with a vicious terminal haymaker.
Program note by Jake Wallace
Please credit Jake Wallace when reproducing or excerpting this program note